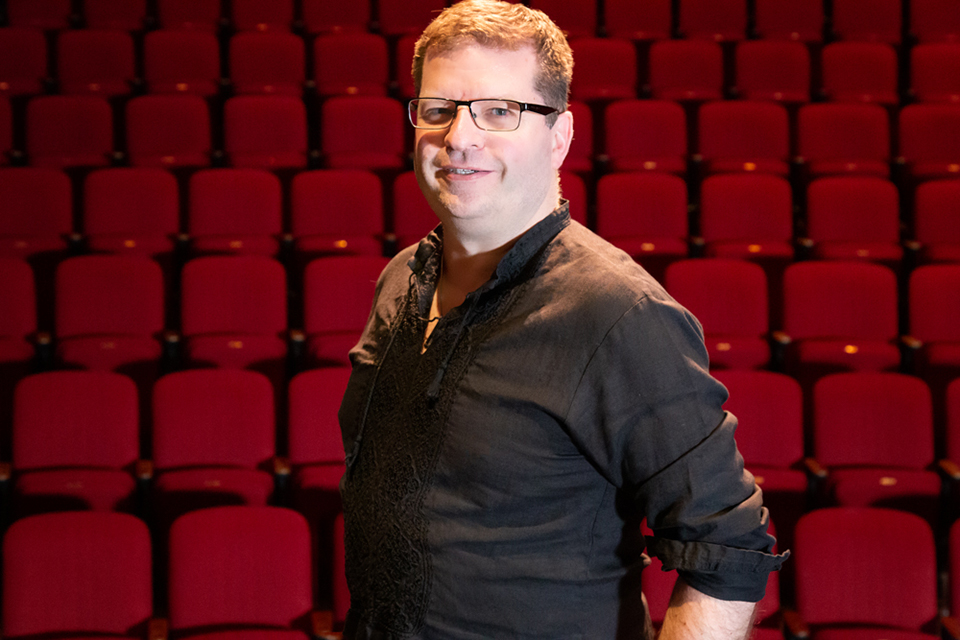 Trevor Shular, Artistic Director and Co-Founder of Barvinok
Trevor has taught Ukrainian dance throughout the province of Alberta and adjudicates dance festivals throughout Western Canada. He has been a guest choreographer for dance ensembles in Alberta, British Columbia and Saskatchewan.

Trevor's dance career includes over 25 years of stage experience with Tryzub Ukrainian Dance Society, Volya Ukrainian Dance Ensemble, and Suzirya Ukrainian Dance Theatre. As a performing artist he has had the opportunity with these ensembles to have toured with production shows performances across Canada, USA and twice to Australia.
Trevor has 30 years of teaching experience and a graduate of the Averamenko Institute of Folk Dance in Lviv, Ukraine. He has attended other workshops throughout Ukraine involved in the study of folklore, costumes, music and dance. Trevor is a founder of Barvinok Ukrainian Dance Society.

Outside of the dance studio, Trevor devotes his time volunteering on several Ukrainian boards of directors. Currently serving on the AUDA, SAUDF, Barvinok Ukrainian Dance Society and the Suzirya Ukrainian Dance Theatre boards of Directors.
Victoria Street
Victoria has had the privilege of teaching with Barvinok since 2014. For her, it has been a wonderful experience to come full circle from being a student with Barvinok to becoming an instructor. She loves sharing her passion for dance and Ukrainian culture with a new generation. Born and raised in Calgary, Victoria has been dancing since she was six years old. As a dancer, she has always loved the Bukovinian region due to its quick, intricate, and challenging footwork. She believes that dance helps students to develop their memory and build their motor coordination/development. In her spare time, she loves being outside and going on adventures with my family and friends. "I always believe in taking on new challenges, and trying to make a positive difference in my community!"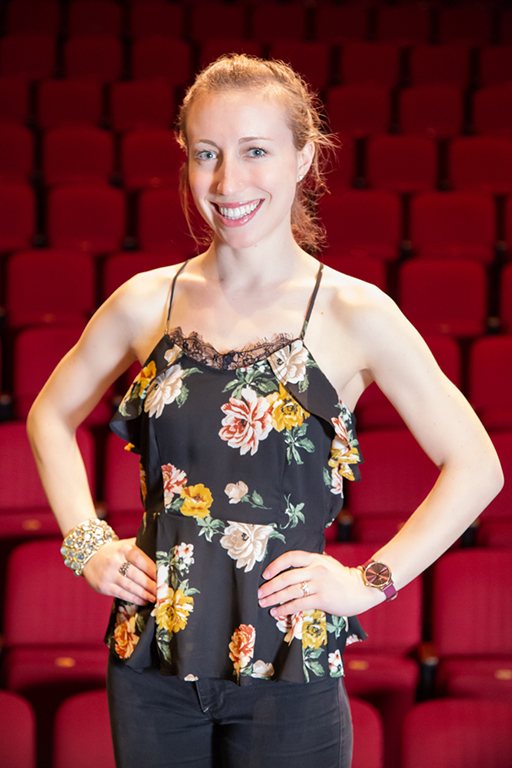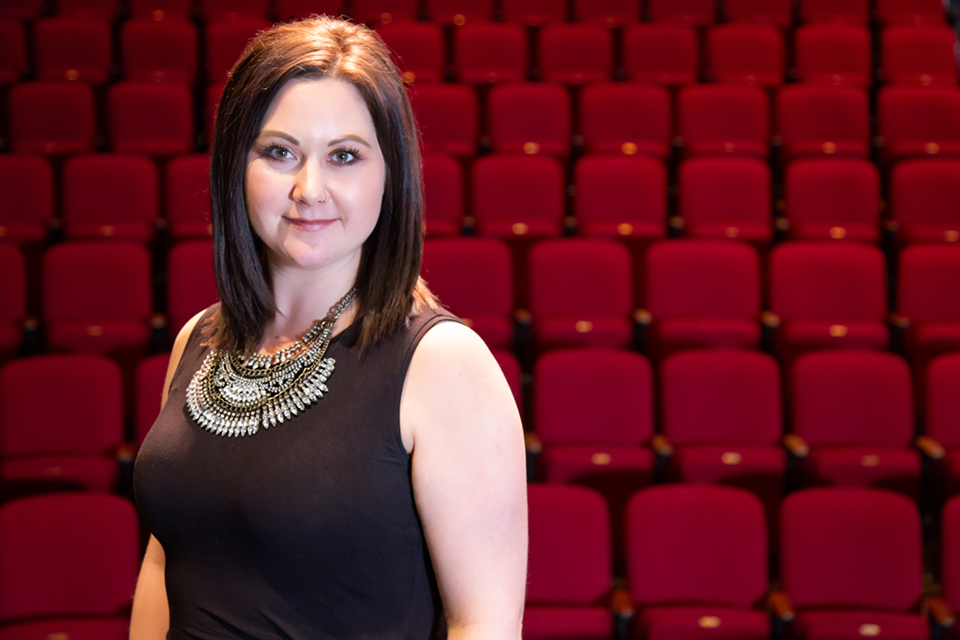 Diana Fiddler
Diana was invited to teach with Barvinok in 2015 and eagerly accepted the opportunity. She was introduced to Ukrainian dance in 1991 and started with Barvinok at the age of 6. She furthered her dance career with groups such as Mavka, Tryzub Ukrainian Dance Ensemble, and Suzirya Ukrainian Dance Theatre. Throughout her many years of dance, she has participated in many competitions in Alberta and Saskatchewan, and has also been privileged with the opportunity to tour Canada, the United States and Australia.
Diana's favourite region of Ukrainian Dance is Transcarpathian. The high energy, colourful costumes, and amazing music are what bring this region to life. The movements of this dance make those big crinolines fly, and the ever-recognizable tunes that accompany them bring an energy like none other.
Dancing and being a part of the Ukrainian community is so important to Diana. When Baba brought her to her first class she didn't think it would be something she would continue into her 30's, but the passion is strong and she and her husband are so excited to now pass down the culture to their 2 children.
Teaching with Barvinok for the last 4 years has brought her such joy. Encouraging our younger generation to adhere to the customs and traditions of Ukrainian dancing is something that she is hoping to do for a very long time.
Katrina Weisensel
Katrina began her dancing career at the age of 3. She was born and raised in Calgary and has trained in Ukrainian, ballet (Grade 8 RAD), modern, jazz, and hip hop. She is an alumnus of the Barvinok Ukrainian Dance Society and has been an instructor with the school since 2012. Katrina joined Suzirya Ukrainian Dance Theatre as a member in 2008. She has had the opportunity to perform internationally in Ukraine, Spain and the United States, as well as across Canada with both the company and the Barvinok school. A few highlights of Katrina's dancing career in Barvinok and Suzirya include: performing in various shows throughout Ukraine as part of Barvinok's 20th Anniversary Tour (2010) as well as completing various regional workshops, completing shows throughout Eastern Canada in Kateryna (2010), touring Western Canada with Spirit of the Seasons (2012-2013), performing at the Calella Grand Festival "Alegria" in Spain (2014), performing Hopak at the Bloor Street Festival in Toronto (2011, 2014), and performing at the House of Ukraine San Diego Ukrainian Festival (2015).
Katrina's favourite regions of Ukraine are Volyn and Bukovyna because of the high energy, intricate footwork and fast tempo that often accompany the regions, as well as the rich and colourful dances that complement them (her family also happens to be from the Bukovynian region). With deep familial roots in the Ukrainian heritage, Katrina loves to instill a passion and love for the Ukrainian culture, its people, and its history through dance.
When Katrina is not busy in the dance studio, she is hard working in the clinic as a physiotherapist with a passion for sports and pediatric physiotherapy. She enjoys being active and participating in hobbies such as travelling the world, skiing, golfing, yoga, and outdoor water sports.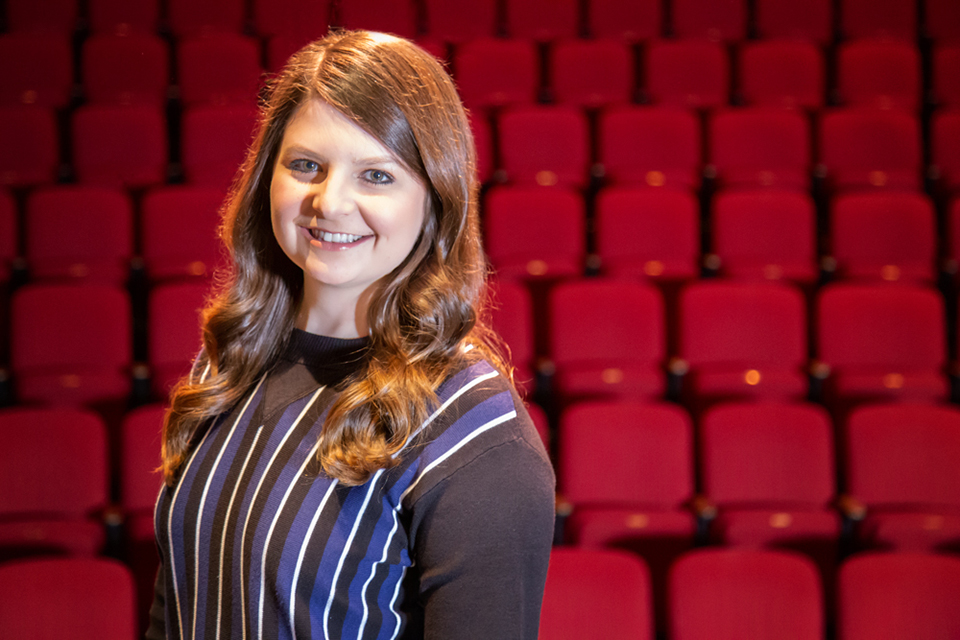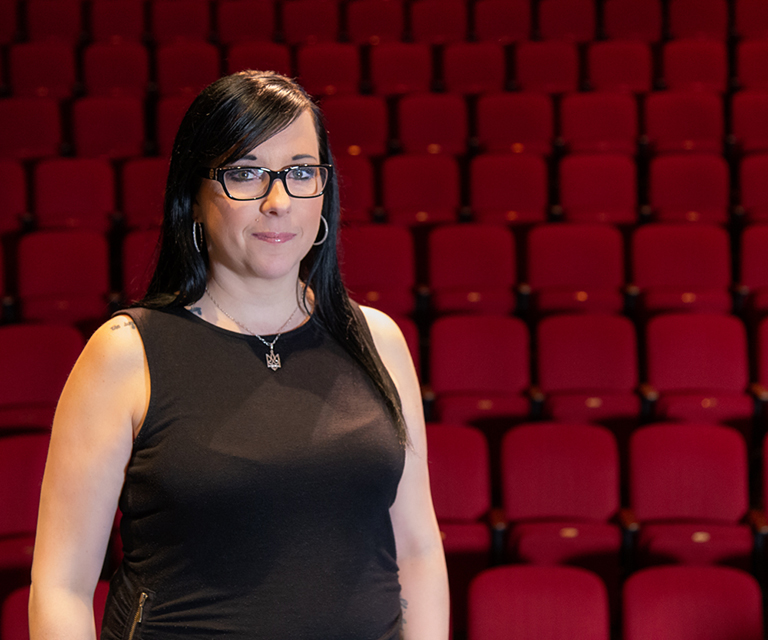 Tara Sheppard (Hunka)
Tara was born and raised in Calgary, where she started her journey in the performing arts as a young gymnast at the Stampede City Gymnastics Club. At the age of 11 Tara discovered her love for Ukrainian Dance, and, under the instruction of Trevor Shular and Natalka Kravec, she started dancing with the Barvinok Ukrainian Dance Society. Throughout the 9 years Tara danced with Barvinok, she attended various workshops with prestigious dance instructors. These experiences resulted in receiving numerous medal standings throughout Alberta and the opportunity to perform at numerous private functions and community events. Ballet is another passion of Tara's and has used this passion to enhance her dance training. With her newfound love, she moved on to dancing with the Tryzub Ukrainian Dance Ensemble, under the direction of Serguei Makarov. While dancing with Tryzub for 4 years, she travelled across Western Canada and Australia with their production, "Awakenings". At the end of 2004, Under the Artistic Direction of Serguei Makarov, a new and dynamic dance group developed and Tara joined Suzirya as one of the original founding members. Tara has toured many western Canadian cities in two of Suzirya's full-length productions, "Kateryna" and "Spirit of the Seasons". Travelling with Suzirya across Canada they were featured as a special guest in several prestigious Ukrainian Festivals, such as Toronto's Bloor Street Festival and Canada's National Ukrainian Festival in Dauphin, MB. Tara now leads a new generation of young dancers as a highly respected instructor and mentor. To Tara, dancing isn't just a hobby, it's a passion that lives in every step she takes.
Kathryn Owad
Currently on a leave of absence
Kathryn been a proud member of the Barvinok family since the age of four! The Barvinok experience has provided her with what she considers priceless knowledge about her Ukrainian background, teaching about the culture through dance and music. Growing up, she dedicated more and more of her time to improve her dance technique, and annually participating in several Ukrainian dance competitions, and performed at various events in Calgary and Southern Alberta. In 2010, she joined Barvinok on a summer dance tour to Ukraine, where she participated in dance workshops with professional Ukrainian dancers, renowned choreographers and, best of all, was given the opportunity to perform for her family in Lviv, Ukraine! From 2010- 2013, she was a member of the Barvinok ensemble, a performance group that was commissioned to dance at various events throughout the province.
She joined the Barvinok staff in September 2013, and has enjoyed meeting young dancers and passing on her love of Ukrainian dance and culture. Kathryn's favourite regions of Ukrainian Dance are Hutsul and Volyn. She also absolutely loves teaching alongside my friends! Outside of dance Kathryn is an avid environmentalist. She has earned two degrees from the University of Calgary: a BSc. in Environmental Biology, and a MA in Geography. Her thesis: American environmental rights. She loves spending time with nature, and can often be found canoeing, camping, and gardening. She has hiked the west coast trail, backpacked through Europe, and re-read the Harry Potter series, in her own words "an embarrassing amount of times." Luckily for Barvinok, Kathryn is fluent in Ukrainian and frequently travels to Ukraine to spend time with family and friends.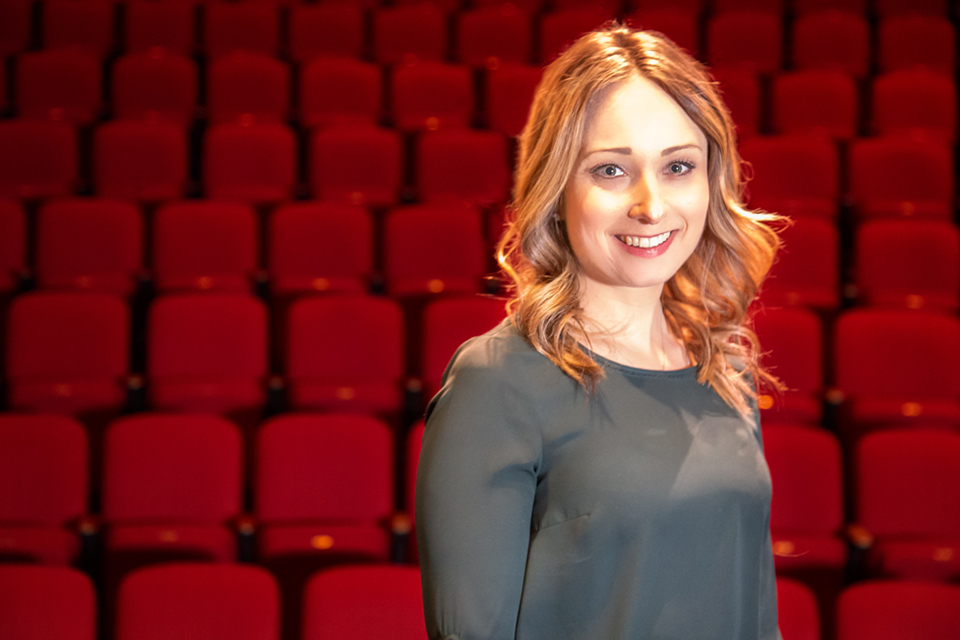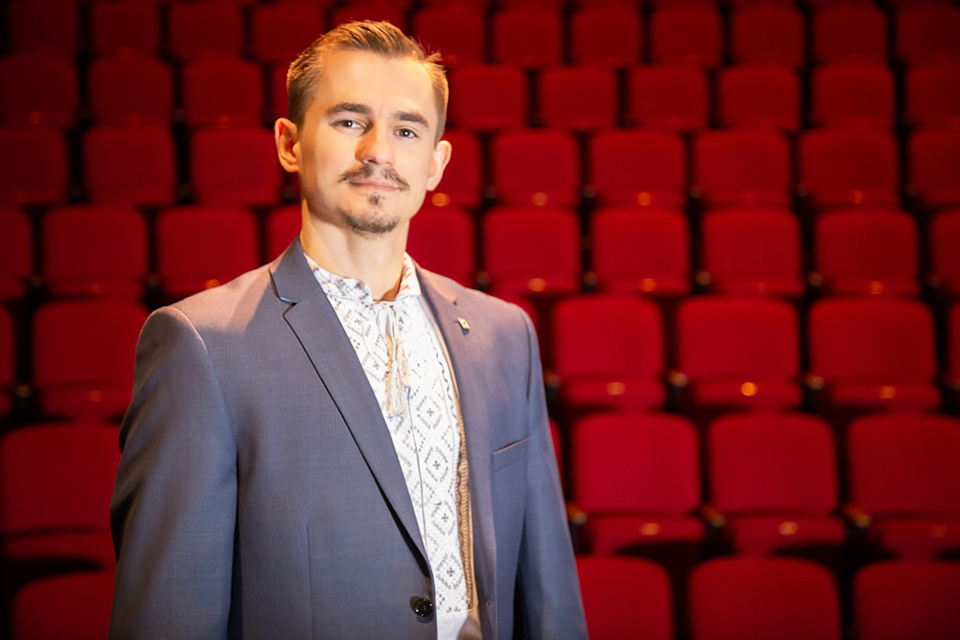 Taras Bohun
Currently on a leave of absence
Taras has been an instructor with Barvinok since 2017, and has been dancing for over 10 years. Born in Mykolaiv, Ukraine, he moved to Calgary in 2013. Taras' favourite Region of Ukrainian Dance is Central because of the high energy and acrobatic elements. As an instructor, Taras emphasizes focused discipline and attention to stage presence with his students. His biggest strengths are his acrobatic tricks due to years of experience doing gymnastics. Taras has had the privilege of dancing with various companies such as; Shumka, Vohon, Volya, and Suzirya Ukrainian Dance Theatre. He enjoys going to the gym, snowboarding, playing hockey, and watching movies when he's not in the dance studio.